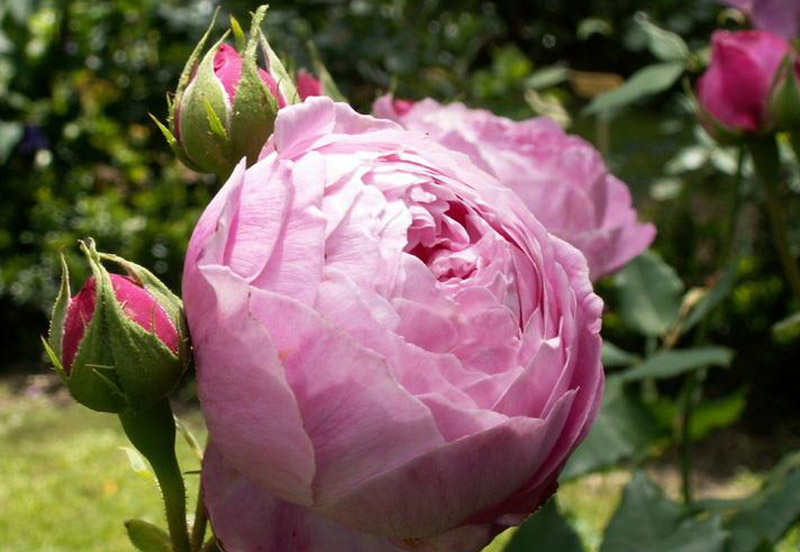 M went crazy for this. We planted her on the hill near the Barn. Our first Bourbon Rose.
Bourbon Rose
Family: Rosaceae (ro-ZAY-see-ee)
Genus: Rosa (RO-zuh)
Cultivar: Louise Odier
Additional cultivar information: (aka Madame de Stella, Madame Louise Odier, Mme Louise Odier)
Hybridized by Margottin; Year of Registration or Introduction: 1851
Class:
Bourbon
Height:
4-6 ft. (1.2-1.8 m)
6-8 ft. (1.8-2.4 m)
8-10 ft. (2.4-3 m)
Spacing:
36-48 in. (90-120 cm)
Hardiness:
USDA Zone 5a: to -28.8 °C (-20 °F)
Bloom Color:
Deep pink (dp)
Bloom Shape:
Double
Quartered
Cupped
Flower Fragrance:
Very Fragrant
Bloom Time:
Late Spring/Early Summer
Blooms repeatedly
Habit:
Shrub
Other Details:
Shade-tolerant
Pruning Instructions:
Blooms on new wood; prune early to promote new growth
Avoid pruning
Soil pH requirements:
6.1 to 6.5 (mildly acidic)
6.6 to 7.5 (neutral)
Propagation Methods:
From woody stem cuttings
From softwood cuttings
From semi-hardwood cuttings
From hardwood cuttings
From hardwood heel cuttings
By grafting
By budding
From Rosegathering.com class: Bourbon, synonyms: Mme de Stella, breeding: Margottin, 1851, Louise Odier, also known as Mme de Stella, was bred by Margottin in 1851. The bright lilac pink rose is distinctively feminine, elegant, and highly refined with a fresh fragrance of raspberry and deep Damask rose. The center of the rose is quartered framed by outwardly folding petals, which form an intricate lacing of concentric circles. The flowers can come in heavy clusters that arch down the canes. The rose makes a lovely small climber, and is about 8 feet in my garden. It can be vulnerable to blackspot and mildew, so precautions may be necessary. Louise Odier looks best when it is not planted near anything that is overwhelming, so that the rose's fine features can be accentuated.
From Antique Rose Emporium: Louise Odier,Bourbon, 1851, This old Bourbon is a hardy rose, bearing very full, medium-sized, camellia-shaped blooms in a bright, light rose or deep pink shade. The plant is vigorous and large, making it suitable for shrub use or for training on pillars or posts, as suggested by Gertrude Jekyll.