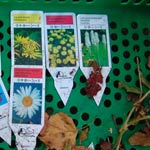 Staunchweed, Sanguinary, Thousandleaf, Soldier's Woundwort
Family: Asteraceae (ass-ter-AY-see-ay) (Info)
Genus: Achillea (ak-ih-LEE-uh) (Info)
Species: millefolium (mill-ee-FOH-lee-um) (Info)
Synonym:Achillea millefolium var. millefolium
Category:
Perennials
Height:
24-36 in. (60-90 cm)
Spacing:
18-24 in. (45-60 cm)
Hardiness:
USDA Zone 3a: to -39.9° C (-40° F)
Sun Exposure:
Full Sun
Bloom Color:
Pink
Pale Yellow
White/Near White
Bloom Time:
Late Spring/Early Summer
Mid Summer
Late Summer/Early Fall
Foliage:
Herbaceous
Other details:
May be a noxious weed or invasive
This plant is attractive to bees, butterflies and/or [...]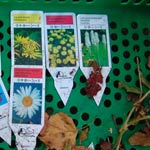 Hybrid Columbine
Family: Ranunculaceae (ra-nun-kew-LAY-see-ay)
Genus: Aquilegia (a-kwi-LEE-jee-uh)
Cultivar: McKana's Giant
Additional cultivar information: (McKana group)
Synonym:Aquilegia caerulea
Synonym:Aquilegia x cultorum
Category:
Perennials
Height:
24-36 in. (60-90 cm)
Spacing:
6-9 in. (15-22 cm)
Hardiness:
USDA Zone 3a: to -39.9° C (-40° F)
Sun Exposure:
Sun to Partial Shade
Danger:
Parts of plant are poisonous if ingested
Bloom Color:
Pink
Red
Pale Yellow
Light Blue
Purple
White/Near White
Bloom Time:
Late Spring/Early Summer
Blooms repeatedly
Foliage:
Grown for foliage
Chartreuse/Yellow
Other details:
Average Water Needs; Water regularly; do not [...]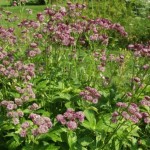 Planted in sweet apple bed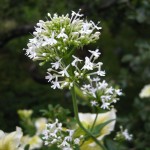 aka Jupiter's Beard, Keys to Heaven. Sown 12.3.08, for the boxes as well as the meadow..
Update: planted in white bed.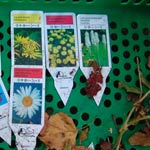 Family: Cistaceae
Genus: Helianthemum (hee-lee-AN-thee-mum)
Species: nummularium (num-ew-LAH-ree-um)
Category:
Shrubs
Height:
12-18 in. (30-45 cm)
Spacing:
18-24 in. (45-60 cm)
Hardiness:
USDA Zone 5a: to -28.8° C (-20° F)
Sun Exposure:
Full Sun
Bloom Color:
Red
Orange
Bright Yellow
White/Near White
Bloom Time:
Late Spring/Early Summer
Foliage:
Evergreen
Silver/Gray
Velvet/Fuzzy-Textured
Other details:
Average Water Needs; Water regularly; do not overwater
Propagation Methods:
From seed; direct sow outdoors in fall
extra info: Dense grey-green foliage is topped with single red, pink, yellow or white [...]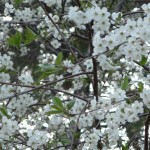 Saved this one in a sale. Planted at end of barn.