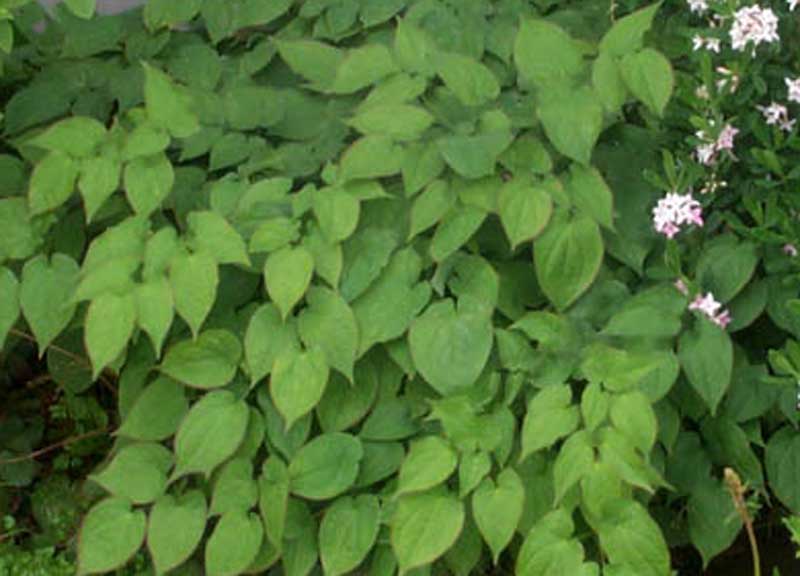 Planted behind large pine on dry bed Autumn 2008.
Alpine Barrenwort
Family: Berberidaceae (bear-ber-id-AY-see-ee)
Genus: Epimedium (ep-ih-MEE-dee-um)
Species: alpinum (AL-pin-um)
Category:
Alpines and Rock Gardens
Groundcovers
Perennials
Height:
6-12 in. (15-30 cm)
Hardiness:
USDA Zone 4a: to -34.4 °C (-30 °F)
Sun Exposure:
Light Shade
Bloom Color:
red
Bloom Time:
Late Spring/Early Summer
Foliage:
Grown for foliage
Deciduous
Other details:
This plant is resistant to deer
Propagation Methods:
By dividing the rootball
Italian botanist Luigi Anguillaria (1571-1570), called this species Epimedio, in his only publication, Semplici (Venice 1561), the first mention of the species originating from Italy. Around the time it came into cultivation, the small perennial found its way into Belgian, French and German gardens. For a long time it was the only one of its genus known in Europe. Later, in 1739, Linnaeus named it Epimedium alpinum.
In the past it was thought that epimedium leaves beaten and added to wine would prevent conception for five days, if drunk after menstruation. In 1597, it was given the English name of 'Barren Woort', by Gerard in London, "…because, as some authors affirme, being drunke it is an enimie to conception."
Two exceptional hybrids came from this species, E. x cantabrigiense, a cross between E. alpinum and E. pubigerum; and E. x rubrum a cross between E. alpinum and E. grandiflorum.
This deer resistant plant, Epimedium alpinum is easy to grow in the Pacific Northwest. It spreads by long rhizomes, and although slow to expand (8 to 12 inches a year), it is not polite to smaller plants. This drought tolerant ground cover is an excellent choice for dry shade. The bright, fresh green foliage is handsome growing as a colony under trees or large shrubs, lighting up the shade and crowding out weeds. Unless foliage is pruned in late winter, the flowers remain hidden.
Epimedium grows best in gardens sheltered from cold winds. Although considered semi-deciduous, it has proven to be evergreen in my own garden, where it grows under a large rhododendron.