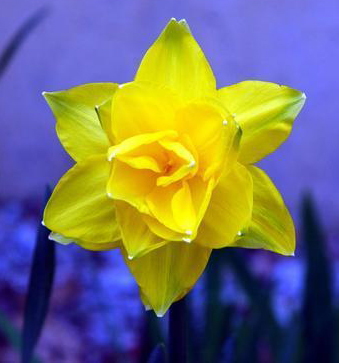 Double Narcissus, Double Daffodil
Just interplanted 16 of these with Coreopsis both in the kidney shaped and the large bed.
Family: Amaryllidaceae (am-uh-ril-id-AY-see-ee)
Genus: Narcissus (nar-SIS-us)
Cultivar: Golden Ducat
Division:
Division 4 – Double
Height:
12-18 in. (30-45 cm)
Spacing:
6-9 in. (15-22 cm)
Bloom Time:
Late Winter/Early Spring
Mid Spring
Hardiness:
USDA Zone 3b: to -37.2 °C (-35 °F)
Sun Exposure:
Sun to Partial Shade
Bloom Color:
Gold (Yellow-Orange)
Danger:
Parts of plant are poisonous if ingested
Other details:
Average Water Needs; Water regularly; do not overwater
Flowers are good for cutting
Soil pH requirements:
5.6 to 6.0 (acidic)
6.1 to 6.5 (mildly acidic)
6.6 to 7.5 (neutral)
7.6 to 7.8 (mildly alkaline)
7.9 to 8.5 (alkaline)
Propagation Methods:
By dividing rhizomes, tubers, corms or bulbs (including offsets)
Seed Collecting:
N/A: plant does not set seed, flowers are sterile, or plants will not come true from seed.