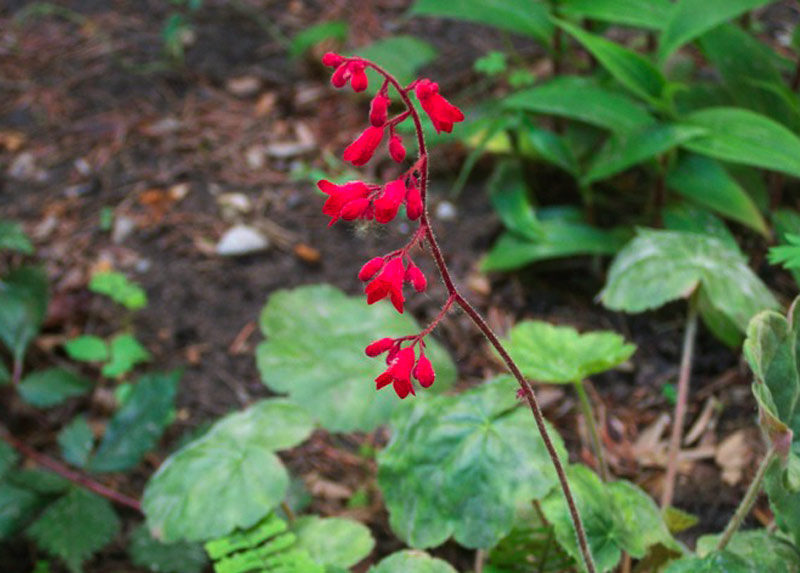 Planted in 2006.
Alumroot, Coralbells, Alum Root
Bloom Time:
Late Spring/Early Summer
Mid Summer
extra info: A wonderful foliage plant that has different colour leaves and shapes over a long season. They are perfect for planting in pots, containers, tubs and borders.
This an attractive variety with nice foliage and lovely red flowers.
They grow up to around 2 feet tall and are quite happy in sun or partial shade. Although these are very hardy perennial plants (so they will come up every year) they should only be planted after the danger of frost has gone (as they are young plants). This generally means around the end of May. Keep well watered until established.
Sow mid March to early May on the surface of a good compost and moisten the soil. Seal in a clear plastic bag can help. Germination can take from 10-60 days. Plant outside when 3-4 inches high (as long as this is after the end of May) and keep well watered. A lovely plant that takes a little patience and experience, but really worth the effort as it is such a rewarding plant. Great for the experienced seed grower or the ambitious amateur.
Family: Saxifragaceae
Genus: Heuchera
Cultivar: Bressingham Hybrids
Type: Perennial
Height: 6-12 in. (15-30 cm)
Spacing: 9-12 in. (22-30 cm)
Hardiness: USDA Zone 4a to -34.4 °C (-30 °F)
Sun Exposure: Partial Shade
Bloom Color: Pink
Soil pH from: 6.1 to 6.5 (mildly acidic)
Soil pH to: 8.1 to 8.5 (strongly alkaline)
Propagation Methods: By dividing the rootball From seed; direct sow outdoors in fall From seed; winter sow in vented containers, coldframe or unheated greenhouse From seed; stratify if sowing indoors From seed; sow indoors before last frost
Seed: Allow pods to dry on plant; break open to collect seeds Properly cleaned, seed can be successfully stored
Otherdetails: This plant is attractive to bees, butterflies and/or birds Drought-tolerant; suitable for xeriscaping Average Water Needs; Water regularly; do not overwater
Planted: 2006
Updated: 2008