Painted maple is a handsome, hardy,deciduous acer. Small to medium in size and sometimes shrubby making an attractive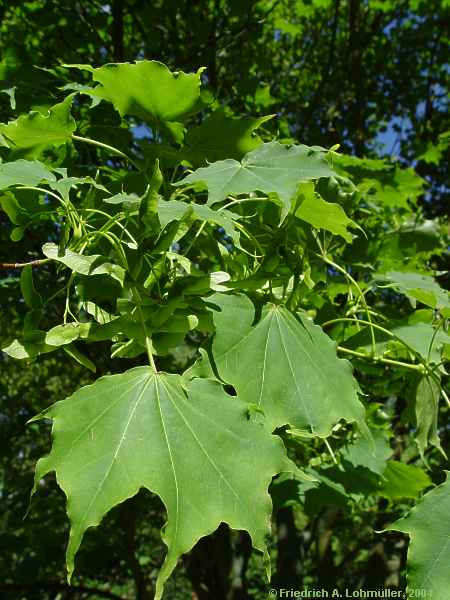 landscape specimen or can be grown in a pot or container, hence bonsai enthuisiasts are experimenting with this as a bonsai.
Flower: clusters of yellow flowers appear in the spring.
Leaf: bright green in the summer and resistant to sunburn; bright gold/yellow in the autumn
Height: 30-40 feet.
Form: round-vase shape-spreading
Native to china and japan
Zone: 5-8 – will need some winter protection whilst young.
Can be slow to germinate up to a year-but well worth the wait.
Position: sun-partial shade; well drained soil
Cultivation details
Of easy cultivation, it prefers a good moist well-drained soil[11] and a position that is at least moderately sunny[11, 200]. Grows well in heavy clay soils. Chlorosis can sometimes develop as a result of iron deficiency when the plants are grown in alkaline soils, but in general maples are not fussy as to soil pH. A polymorphic species[58], it is closely related to A. truncatum[11]. Most maples are bad companion plants, inhibiting the growth of nearby plants[18, 20].
Propagation
Seed of this species is rarely available. If obtained, it is best sown as soon as it is ripe in a cold frame, it usually germinates in the following spring. Pre-soak stored seed for 24 hours and then stratify for 2 – 4 months at 1 – 8°c. It can be slow to germinate. The seed can be harvested 'green' (when it has fully developed but before it has dried and produced any germination inhibitors) and sown immediately. It should germinate in late winter. If the seed is harvested too soon it will produce very weak plants or no plants at all[80, 113]. When large enough to handle, prick the seedlings out into individual pots and grow them on until they are 20cm or more tall before planting them out in their permanent positions. Layering, which takes about 12 months, is successful with most species in this genus. Cuttings of young shoots in June or July. The cuttings should have 2 – 3 pairs of leaves, plus one pair of buds at the base. Remove a very thin slice of bark at the base of the cutting, rooting is improved if a rooting hormone is used. The rooted cuttings must show new growth during the summer before being potted up otherwise they are unlikely to survive the winter. Grafting onto the roots of A. platanoides is usually successful, but the graft should be made as low as possible to reduce the incident of suckers from the rootstock.