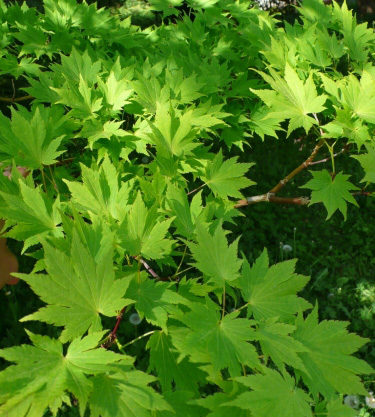 Siebold's Maple, Japanese kohauchiwakaede
We collected seed for the dozen seedlings we now have, during the Autumn 2007 on our way to KK. They wintergerminated outside happily.
Family: Aceraceae (ay-ser-AY-see-ee)
Genus: Acer (AY-ser)
Species: sieboldianum
Category:
Trees
Height:
10–15 m
The young shoots are green to red, thinly covered with white hairs in their first year.
Sun Exposure:
Full Sun
Sun to Partial Shade
Bloom Color:
Pale Yellow
Bloom Time:
Late Spring/Early Summer
Foliage:
Deciduous
Other details:
The smooth bark and yellow flowers help distinguish it from the closely related Acer japonicum, which has rough, scaly bark, and red flowers, while the hairy stems and yellow flowers distinguish it from Acer shirasawanum, with hairless stems and red flowers.
Soil pH requirements:
4.5 or below (very acidic)
4.6 to 5.0 (highly acidic)
5.1 to 5.5 (strongly acidic)
5.6 to 6.0 (acidic)
6.1 to 6.5 (mildly acidic)
6.6 to 7.5 (neutral)
Propagation Methods:
From hardwood cuttings
From seed; direct sow outdoors in fall
From seed; stratify if sowing indoors
From seed; sow indoors before last frost
From seed; direct sow after last frost
Seed Collecting:
Allow seedheads to dry on plants; remove and collect seeds