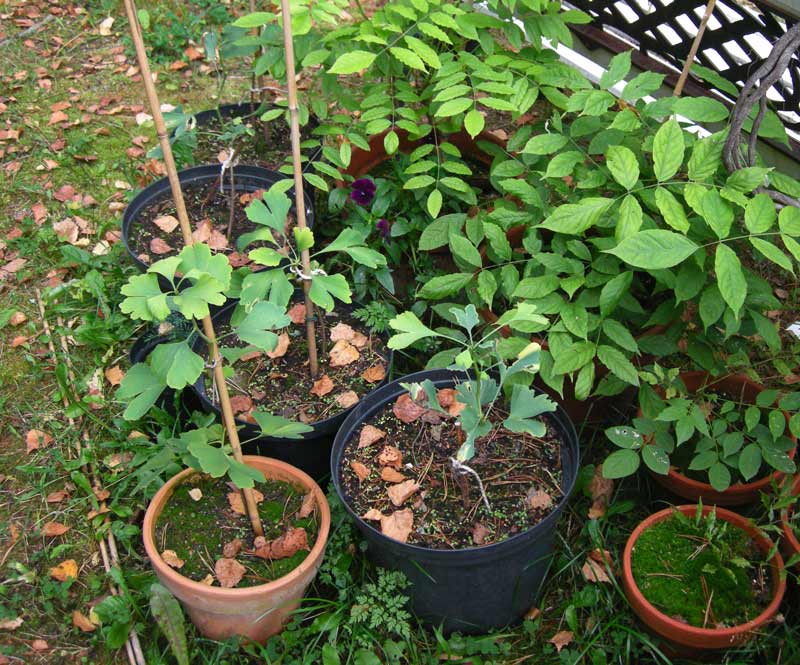 M winter seeded these in 2006.
Update 2008: well they may be ready to plant out to their new homes in 2011. added pictures of their current state.
Family: Ginkgoaceae
Genus: Ginkgo (GING-ko)
Species: biloba (bi-LOW-buh)
Category:
Trees
Conifers
Height:
over 40 ft. (12 m)
Spacing:
30-40 ft. (9-12 m)
Hardiness:
USDA Zone 3a: to -39.9 °C (-40 °F)
Sun Exposure:
Full Sun
Danger:
Parts of plant are poisonous if ingested
Handling plant may cause skin irritation or allergic reaction
Bloom Color:
Bright Yellow
Bloom Time:
Mid Spring
Foliage:
Deciduous
Other details:
Average Water Needs; Water regularly; do not overwater
Soil pH requirements:
5.1 to 5.5 (strongly acidic)
5.6 to 6.0 (acidic)
6.1 to 6.5 (mildly acidic)
6.6 to 7.5 (neutral)
Propagation Methods:
From seed; direct sow outdoors in fall
From seed; winter sow in vented containers, coldframe or unheated greenhouse
From seed; stratify if sowing indoors
Seed Collecting:
Seed does not store well; sow as soon as possible
The ginkgo is very distinct in that though it is a conifer it has leaves rather than needles or scales commonly associated with decidious trees.
It leaves are flat and fan-shaped up to 10cm across, mid-to yellow / green turning briefly to a butter yellow colour before leaf-fall. Mature specimens can reach heights of 30metres and have been known to reach ages of 1000years +.
Dementia and Alzheimer's Disease
Ginkgo is widely used in Europe for treating dementia. The reason that ginkgo is thought to be helpful for preventing or treating these brain disorders is because it improves blood flow in the brain and because of its antioxidant properties. Although many of the clinical trials have been scientifically flawed, the evidence that ginkgo may improve thinking, learning, and memory in people with Alzheimer's disease (AD) has been highly promising.
Clinical studies suggest that ginkgo provides the following benefits for people with AD:
* Improvement in thinking, learning, and memory
* Improvement in activities of daily living
* Improvement in social behavior
* Fewer feelings of depression
One recent study also found that ginkgo may be as effective as leading AD medications in delaying the symptoms of dementia in people with this debilitating condition. In addition, ginkgo is sometimes used preventively because it may delay the onset of AD in someone who is at risk for this type of dementia (for example, family history).
Eye problems
The flavonoids found in ginkgo may help halt or lessen some retinal problems (that is, problems to the back part of the eye). Retinal damage has a number of potential causes, including diabetes and macular degeneration. Macular degeneration (often called age-related macular degeneration or ARMD) is a progressive, degenerative eye disease that tends to affect older adults and is the number one cause of blindness in the United States. Studies suggest that gingko may help preserve vision in those with ARMD.
Intermittent Claudication
Because ginkgo is reputed to improve blood flow, this herb has been studied in people with intermittent claudication (pain caused by inadequate blood flow [atherosclerosis] to the legs). People with intermittent claudication have difficulty walking without suffering extreme pain. An analysis of eight published studies revealed that people taking ginkgo tend to walk roughly 34 meters farther than those taking placebo. In fact, ginkgo has been shown to be as effective as a leading medication in improving pain-free walking distance. However, regular walking exercises are more beneficial than ginkgo in improving walking distance.
Memory Impairment
Ginkgo is widely touted as a "brain herb" and is commonly added to nutrition bars and fruit smoothies to boost memory and enhance cognitive performance. Researchers recently reviewed all of the high-quality published studies on ginkgo and mild memory impairment (in other words, people without Alzheimer's or other form of dementia), and concluded that ginkgo was significantly more effective than placebo in enhancing memory and cognitive function. Despite the encouraging findings, some researchers speculate that more high-quality research, involving larger numbers of people, is needed before ginkgo can be recommended as a memory enhancer to otherwise healthy adults.
Tinnitus
Given that nerve damage and certain blood vessel disorders can lead to tinnitus (the perception of ringing, hissing, or other sound in the ears or head when no external sound is present), some researchers have investigated whether ginkgo relieves symptoms of this hearing disorder. Although the quality of most studies was poor, the reviewers concluded that ginkgo moderately relieves the loudness of the tinnitus sound. However, a recent well-designed study including 1,121 people with tinnitus found that ginkgo (given 3 times daily for 3 months) was no more effective than placebo in relieving symptoms of tinnitus. Given these conflicting findings, the therapeutic value of ginkgo for tinnitus remains uncertain. In general, tinnitus is a very difficult problem to treat. Talk to your doctor about whether a trial of ginkgo to alleviate this frustrating symptom may be safe and worthwhile for you.
Other
In addition to these health problems, professional herbalists may also recommend ginkgo for a variety of other ailments including altitude sickness, asthma, depression, disorientation, headaches, high blood pressure, erectile dysfunction, and vertigo.