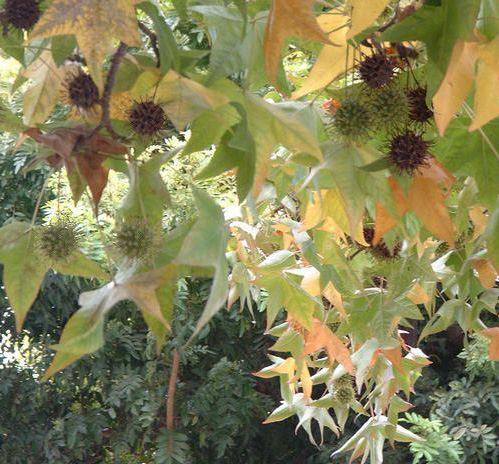 Seed collected in SF Bay Area, Nor Cal, USA during Autumn 2007. Considering the area of collection these could be 'Palo Altos'. Around 100 germinated happily outdoors during the winter.
Sweetgum, Red Gum, Liquid Amber
Family: Hamamelidaceae
Genus: Liquidambar (lih-kwid-AM-bar)
Species: styraciflua (sty-rak-ee-FLOO-uh)
Category:
Trees
Height:
over 40 ft. (12 m)
Spacing:
over 40 ft. (12 m)
Hardiness:
USDA Zone 6a: to -23.3 °C (-10 °F)
Sun Exposure:
Sun to Partial Shade
Danger:
N/A
Bloom Color:
Chartreuse (Yellow-Green)
Bloom Time:
Mid Spring
Foliage:
Deciduous
Other details:
Average Water Needs; Water regularly; do not overwater
Soil pH requirements:
6.1 to 6.5 (mildly acidic)
6.6 to 7.5 (neutral)
Propagation Methods:
From seed; direct sow after last frost
Seed Collecting:
Bag seedheads to capture ripening seed
From rhs.org.uk: L. styraciflua 'Palo Alto' Windsor; Wisley (W915637) Gammon
Saratoga Horticultural Institute, California, USA 1961. Pyramidal tree with bright orange-red autumn foliage (Santamour). Young leaves tinted purple with red petiole; autumn foliage orange and red (Adeline). Selected in 1954 as a street tree in Palo Alto; common, autumn foliage sometimes with clear yellow as well as consistent brilliant orange-red (Gammon). Upright pyramidal habit and rather small leaf.