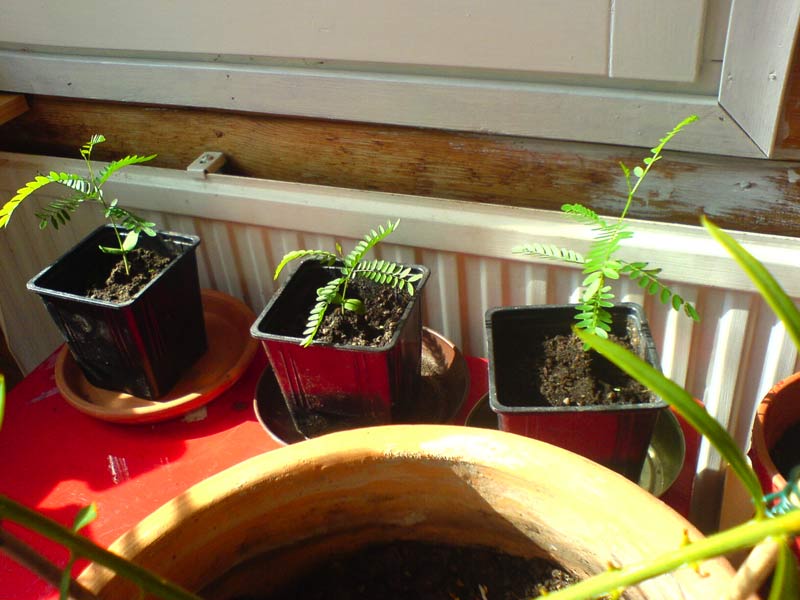 M grew these 5 of these from seed in 2005.
D brought back seeds from Venice in 2007. Which were winterseeded with great success.
Now we have sixteen more…..
One pioneer has already been planted in a bed for one winter.
Picture taken during spring 2006.
Yellow False Acacia, Black Locust, Yellow Locust
Family: Papilionaceae (pa-pil-ee-uh-NAY-see-ee)
Genus: Robinia (roh-BIN-ee-uh)
Species: pseudoacacia (soo-doh-a-KAY-see-uh)
Synonym:Robinia pseudoacacia var. pyramidalis
Synonym:Robinia pseudoacacia var. rectissima
Synonym:Robinia pseudacacia f. inermis
Category:
Trees
Height:
30-40 ft. (9-12 m)
over 40 ft. (12 m)
Spacing:
20-30 ft. (6-9 m)
Hardiness:
USDA Zone 5a: to -28.8 °C (-20 °F)
Sun Exposure:
Full Sun
Danger:
Seed is poisonous if ingested
Parts of plant are poisonous if ingested
Bloom Color:
White/Near White
Bloom Time:
Late Spring/Early Summer
Foliage:
Grown for foliage
Deciduous
Smooth-Textured
Other details:
This plant is attractive to bees, butterflies and/or birds
Flowers are fragrant
Soil pH requirements:
6.1 to 6.5 (mildly acidic)
6.6 to 7.5 (neutral)
7.6 to 7.8 (mildly alkaline)
Propagation Methods:
From hardwood cuttings
From seed; direct sow outdoors in fall
Seed Collecting:
Allow pods to dry on plant; break open to collect seeds
Seed does not store well; sow as soon as possible
Black locust can be grown where most other tree's don't survive.
It has fragrant, white, showy flowers which appear may through to june.
Bees harvest the nectar to produce a honey regarded as one of the worlds finest.
Black locust is a fast growing tree, (in the pea family) which can reach between 40 to 100 feet in height (but may be pruned to any size), it is widely planted as a shade tree, and the dense, quick growth makes it suitable as a screen or windbreak.
The black locust is also an ideal tree as a bonsai.
Native to southern appalachian and ozark mountains.
the tree that dares to grow where other tree's dare not grow